Autarchy and intervention: the failure of the industrial side of the Plan Badajoz
Abstract
The Plan Badajoz had an industrial side besides the agrarian one, and was expected to develop an important role in the transformation of the economic structure of the province. This article studies this so far very little researched subject, from both a global and a sectorial perspective, and evaluates its results. The availability of very detailed data has made it possible. The firms of the Plan Badajoz participated in the general industrial policy of the government, and were created within a very regulated and rigid framework, suffering from a fundamental weakness when developed: its lack of competitiveness, that explains the favorable treatment they received from the public sector to help them avoid bankruptcy.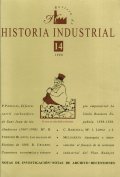 Downloads
License
El/la autor/a cede los derechos al/la editor/a. Creative Commons
El/la autor/a que publica en esta revista está de acuerdo con los términos siguientes:
El/la autor/a cede en exclusiva todos los derechos de propiedad intelectual al/la editor/a para todo el mundo y toda la duración de los derechos de propiedad intelectual vigentes aplicables.
El/la editor/a difundirá los textos con la licencia de reconocimiento de Creative Commons que permite compartir la obra con terceros, siempre que éstos reconozcan su autoría, su publicación inicial en esta revista y las condiciones de la licencia.