Flexible production and familiar enterprise: Averly Foundry in Saragosse
Keywords:
Flexible production, Familiar enterprise, Mechanical construction, Manufacturing production
Abstract
The Foundry Averly in Saragosse is an enterprise belonging to the mechanical constructions branch that began its way in 1863 as a small mechanic workshop. Founded by an industrialman from Lyon, Antonio Averly y Francón, who belongs to a saga of French industrialmen localized in the same city, it arose as a branch of the French motherhouse. The possibilities of expansion carried it to a process of technological modernization in 1880, amplifying its workshops, joining the tasks of reparation and construction of foundry machines. The rise of its productive capacity made possible the expansion of certain products among u big part of the national geographic confines, arriving to the use of an average of 120 workers.
This article tries to analize the pattern of company to whom Averly belongs and how this company, of familiar position, organized according to the pattern of manufacturing production called by some authors as "handcraft", expanded by developing the basic types of what is being called "flexible production".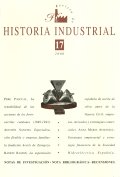 Downloads
License
El/la autor/a cede los derechos al/la editor/a. Creative Commons
El/la autor/a que publica en esta revista está de acuerdo con los términos siguientes:
El/la autor/a cede en exclusiva todos los derechos de propiedad intelectual al/la editor/a para todo el mundo y toda la duración de los derechos de propiedad intelectual vigentes aplicables.
El/la editor/a difundirá los textos con la licencia de reconocimiento de Creative Commons que permite compartir la obra con terceros, siempre que éstos reconozcan su autoría, su publicación inicial en esta revista y las condiciones de la licencia.