The Spanish olive oil exports prior to Civil War: firms, markets and marketing strategies
Keywords:
Olive oil industry, Spanish foreign trade, Business history, Markets structure
Abstract
This article analyses the Spanish olive oil exports in the half century prior to 1936 Civil War by focusing on the dynamics of the firms in the sector and their exporting strategies. After offering an overview on Spanish olive oil exports, this article argues that by the eve of the Spanish Civil War; and, despite the emergence of new exporting firm from the 1870s on, olive oil exports were characterized by being relatively concentrated in a few companies. It also shows the existence of clearly differentiated importing markets for the Spanish olive oil both regarding the type or quality of the product and the competition and the market structure of the importing markets. The article follows by stressing the tendency of the Spanish firms to specialize rather than to diversify their exports, at least when importing countries and types of the product are considered. The last section is devoted to offer some hypotheses on the causes of the Spanish firms specialization.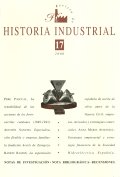 Downloads
License
El/la autor/a cede los derechos al/la editor/a. Creative Commons
El/la autor/a que publica en esta revista está de acuerdo con los términos siguientes:
El/la autor/a cede en exclusiva todos los derechos de propiedad intelectual al/la editor/a para todo el mundo y toda la duración de los derechos de propiedad intelectual vigentes aplicables.
El/la editor/a difundirá los textos con la licencia de reconocimiento de Creative Commons que permite compartir la obra con terceros, siempre que éstos reconozcan su autoría, su publicación inicial en esta revista y las condiciones de la licencia.