The Sherry wine in the Spanish foreign sector, 1838-1885
Keywords:
Sherry wine, Exports, Prices, Spanish foreign trade
Abstract
The purpose of this paper is to reconstruct the value of sherry wine during an important period of the Spanish foreign trade. Firstly, it offers a more complete series of sherry wine exports. Secondly, it describes the characteristics of the wine sold in the foreign markets and the variety of its prices. It analyses the sales of an important exporter, and presents a series of sherry wine prices. Finally, it obtains a real valuation of sherry wine and emphasises its importance in the Spanish foreign trade.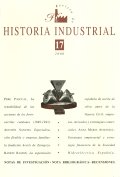 Downloads
License
El/la autor/a cede los derechos al/la editor/a. Creative Commons
El/la autor/a que publica en esta revista está de acuerdo con los términos siguientes:
El/la autor/a cede en exclusiva todos los derechos de propiedad intelectual al/la editor/a para todo el mundo y toda la duración de los derechos de propiedad intelectual vigentes aplicables.
El/la editor/a difundirá los textos con la licencia de reconocimiento de Creative Commons que permite compartir la obra con terceros, siempre que éstos reconozcan su autoría, su publicación inicial en esta revista y las condiciones de la licencia.