Intersectoral productivity transfers in the Spanish economy, 1958-1975
Keywords:
Total Factor Productivity, Relative Prices, Input-output Analysis, Productivity Transfers
Abstract
In this article I make a sectoral approach to Total Factor Productivity growth in the Spanish economy during the period 1958-1975. Its main purpose is to capture its advance since the last year of the autarchic period and throughout the years of fast economic growth. A multisectoral analysis is applied in order to emphasize technological transferences among sectors, one of the most outstanding aspects of modern economic growth. Total Factor Productivity growth has been measured through changes in relative prices of output and production factors because of the lack of series of labour and capital before 1964. The input-output methodology allows working in this way. K
Downloads
Download data is not yet available.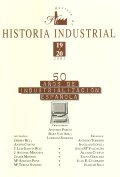 Downloads
How to Cite
Sanchís Llopis, María Teresa. 2017. "Intersectoral Productivity Transfers in the Spanish Economy, 1958-1975". Revista De Historia Industrial — Industrial History Review, no. 19-20 (July):275-302. https://doi.org/10.1344/rhi.v0i19-20.19371.
License
El/la autor/a cede los derechos al/la editor/a. Creative Commons
El/la autor/a que publica en esta revista está de acuerdo con los términos siguientes:
El/la autor/a cede en exclusiva todos los derechos de propiedad intelectual al/la editor/a para todo el mundo y toda la duración de los derechos de propiedad intelectual vigentes aplicables.
El/la editor/a difundirá los textos con la licencia de reconocimiento de Creative Commons que permite compartir la obra con terceros, siempre que éstos reconozcan su autoría, su publicación inicial en esta revista y las condiciones de la licencia.