Productivity in Spanish manufacturing: half a century of growth and convergence
Keywords:
Productivity, Manufacturing, Unit Value Ratios, International Comparisons
Abstract
This paper analyses the relative performance of the Spanish manufacturing sector over the past five decades compared to those of the USA, France, Germany, Japan and the United Kingdom. Our comparisons follow the industry of origin approach and are obtained on the basis of over 250 unit value ratios for similar manufactured products. We use growth accounting methods in order to show the relative contributions of physical capital, human capital and total factor productivity to the growth of labour productivity in the Spanish manufacturing sector and its relative gap compared to the USA.
Downloads
Download data is not yet available.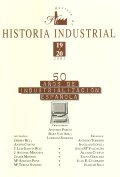 Downloads
How to Cite
van Ark, Bart. 2017. "Productivity in Spanish Manufacturing: Half a Century of Growth and Convergence". Revista De Historia Industrial — Industrial History Review, no. 19-20 (July):77-101. https://doi.org/10.1344/rhi.v0i19-20.19394.
License
El/la autor/a cede los derechos al/la editor/a. Creative Commons
El/la autor/a que publica en esta revista está de acuerdo con los términos siguientes:
El/la autor/a cede en exclusiva todos los derechos de propiedad intelectual al/la editor/a para todo el mundo y toda la duración de los derechos de propiedad intelectual vigentes aplicables.
El/la editor/a difundirá los textos con la licencia de reconocimiento de Creative Commons que permite compartir la obra con terceros, siempre que éstos reconozcan su autoría, su publicación inicial en esta revista y las condiciones de la licencia.