The Spanish cotton-gin sector: cotton growing, cotton-gin and the State (1920-1980)
Keywords:
Cotton-Gin Industry, State, Institutional Framework, Profits
Abstract
This paper considers the Spanish cotton-gin industry within Spanish economic policy, especially Francoist economic policy, closely connected with cotton growing. Protectionist cotton trade policies and institutional frameworks relating to cotton and cotton-gin determinated firms' strategies and behaviour. The aim of this article is to offer an analysis of the organisation and evolution of the Spanish cotton-gin industry from its early first years until the end of the 1970's and the specific conditions of the institutional framework within which this development took place. In this paper we study three subjects: first, we consider cotton policies and show how the evolution of cotton growing was conditioned by cotton-gin industry development; second, we indicate the structure of the cotton-gin industry and calculate its profits during the first Francoist period in the specific circumstances that operated within the cotton market; and, finally, we analyse how the first Francoist institutional framework was dismantled and outline the development of Spanish cottongin industry from that time until the crisis of the 1970's.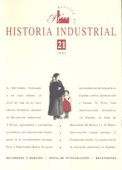 Downloads
License
El/la autor/a cede los derechos al/la editor/a. Creative Commons
El/la autor/a que publica en esta revista está de acuerdo con los términos siguientes:
El/la autor/a cede en exclusiva todos los derechos de propiedad intelectual al/la editor/a para todo el mundo y toda la duración de los derechos de propiedad intelectual vigentes aplicables.
El/la editor/a difundirá los textos con la licencia de reconocimiento de Creative Commons que permite compartir la obra con terceros, siempre que éstos reconozcan su autoría, su publicación inicial en esta revista y las condiciones de la licencia.