A Dutch multinational in Spain: «La Seda de Barcelona», 1925-1991
Keywords:
Multinational Firms, Chemical Industry, Spain, 20th Century
Abstract
This piece chronicles the development of La Seda de Barcelona (LSB), a leading actor in the Spanish chemical textile industry from its creation in 1925 by the Dutch concern HKI/AKU/Akzo through its nationalization in 1991. LSB is used as a case study to analyze the dynamics of technologically complex industries in a peripheral country as well as to explain the technical and organizational dependence shown by most Spanish chemical companies throughout the 20th century. The study is conducted at three levels: the international market of chemical fibers and licenses; the relationship between LSB and the Dutch group; and La Seda's interaction with the Spanish Administration, competitors and consumers.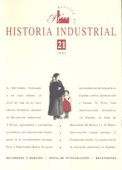 Downloads
License
El/la autor/a cede los derechos al/la editor/a. Creative Commons
El/la autor/a que publica en esta revista está de acuerdo con los términos siguientes:
El/la autor/a cede en exclusiva todos los derechos de propiedad intelectual al/la editor/a para todo el mundo y toda la duración de los derechos de propiedad intelectual vigentes aplicables.
El/la editor/a difundirá los textos con la licencia de reconocimiento de Creative Commons que permite compartir la obra con terceros, siempre que éstos reconozcan su autoría, su publicación inicial en esta revista y las condiciones de la licencia.