Changes of the supply and demand of textiles in Barcelona (1650-1800)
Keywords:
Textiles goods, Trade, Barcelona, 18th century
Abstract
The first part of the article focuses on the most significant changes in the supply of textile goods in the different textile stores in Barcelona, covering the period from 1650 to 1800. The article points out the increase and diversification of the supply, and the effects of these progressive growth, specially in the last decade of the 18th century. The second part of the article examines the establishment of financial and credit networks between Barcelona's shopkeepers and other retailers, merchants and dealers in Catalonia and the rest of Spain.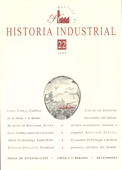 Downloads
License
El/la autor/a cede los derechos al/la editor/a. Creative Commons
El/la autor/a que publica en esta revista está de acuerdo con los términos siguientes:
El/la autor/a cede en exclusiva todos los derechos de propiedad intelectual al/la editor/a para todo el mundo y toda la duración de los derechos de propiedad intelectual vigentes aplicables.
El/la editor/a difundirá los textos con la licencia de reconocimiento de Creative Commons que permite compartir la obra con terceros, siempre que éstos reconozcan su autoría, su publicación inicial en esta revista y las condiciones de la licencia.