Commercial credit and industrial investment. The «Nadal i Ribó» holding (1828-1875)
Keywords:
Commercial Credit, Industrial Investment, Industrialization, Catalonia
Abstract
This paper analyzes the evolution of a commercial firm of Barcelona during the period 18281875, the Nadal i Ribó commercial house. The firm's main activity was to import raw cotton, though after some years growth and diversification transformed the company in a commercial, financial and industrial holding of outstanding relevance in the Catalan cotton business. This case study shows with detail the transfer of funds from (and the relationship between) trade to industry that took place during the golden age of Catalan industrialization, therefore suggesting that commercial houses may have had a more important role in Catalan industrialization than it is so far believed.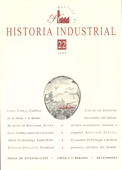 Downloads
License
El/la autor/a cede los derechos al/la editor/a. Creative Commons
El/la autor/a que publica en esta revista está de acuerdo con los términos siguientes:
El/la autor/a cede en exclusiva todos los derechos de propiedad intelectual al/la editor/a para todo el mundo y toda la duración de los derechos de propiedad intelectual vigentes aplicables.
El/la editor/a difundirá los textos con la licencia de reconocimiento de Creative Commons que permite compartir la obra con terceros, siempre que éstos reconozcan su autoría, su publicación inicial en esta revista y las condiciones de la licencia.