Friedrich List in the National Histories of the Italian and Spanish Economic Thought
Keywords:
Friedrich List, Economic Thought, Italy, Spain
Abstract
The article investigates the influence of the economic ideas of Friedrich List in Italian and Spanish economic thought, focusing on the works of the economists of the second half of the 19th century, within the «national history» approach of economic thought. The argument emphasises the distinctiveness of the processes of cross-national diffusion of economic ideas across nations.
Knowledge about List in Italy and Spain was only a superficial one and was delayed in time. Such a limited influence of his ideas is due to: 1) the use of his doctrine that was not exclusive but associated with the German Historical School and «germanismo economico» (Italy); 2) the practical direction of the Spanish protectionists in the cultural process of policy-making and its deficiencies (Spain)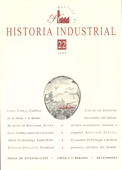 Downloads
License
El/la autor/a cede los derechos al/la editor/a. Creative Commons
El/la autor/a que publica en esta revista está de acuerdo con los términos siguientes:
El/la autor/a cede en exclusiva todos los derechos de propiedad intelectual al/la editor/a para todo el mundo y toda la duración de los derechos de propiedad intelectual vigentes aplicables.
El/la editor/a difundirá los textos con la licencia de reconocimiento de Creative Commons que permite compartir la obra con terceros, siempre que éstos reconozcan su autoría, su publicación inicial en esta revista y las condiciones de la licencia.