From cork to cortiça. The coming of Portugal to world leadership in the cork industry
Keywords:
Cork, Cork Oak, Cork Industry, Trade of Cork Manufactures
Abstract
This article analyzes changes in the cork business during the last five or six decades, though it takes into account the evolution of the sector since mid-XIXth century. Focus is placed on raw material scarcities and on the «Iberianization» process of the business (as Portugal now took the leading position Catalonia enjoyed in the sector since the XVIIIth century). A description of these themes is offered, and new lines of research are suggested. The final section indicates future developments of the sector, like pressure in world markets of its raw materials due to supply rigidities and also foreseen locational displacements in Mahgreb countries once the area achieves stability.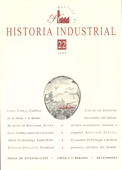 Downloads
License
El/la autor/a cede los derechos al/la editor/a. Creative Commons
El/la autor/a que publica en esta revista está de acuerdo con los términos siguientes:
El/la autor/a cede en exclusiva todos los derechos de propiedad intelectual al/la editor/a para todo el mundo y toda la duración de los derechos de propiedad intelectual vigentes aplicables.
El/la editor/a difundirá los textos con la licencia de reconocimiento de Creative Commons que permite compartir la obra con terceros, siempre que éstos reconozcan su autoría, su publicación inicial en esta revista y las condiciones de la licencia.