Import prices for private motorcars in Spain during the Twenties
Keywords:
Motorcar Industry, Import Trade, Prices, Tariff
Abstract
This note presents the series of average prices in origin of the private motorcars imported in Spain from the United States, France and Great Britain between 1918 and 1930 and to the specifications tables of the yearly motor shows in New York, London and Paris. These prices (at origin and in Spain) are changed to prices in pesetas by applying the official exchange rates and the real tariff effect with the procedure annually reported by the Royal Auomobile Club of Spain to its members.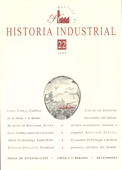 Downloads
License
El/la autor/a cede los derechos al/la editor/a. Creative Commons
El/la autor/a que publica en esta revista está de acuerdo con los términos siguientes:
El/la autor/a cede en exclusiva todos los derechos de propiedad intelectual al/la editor/a para todo el mundo y toda la duración de los derechos de propiedad intelectual vigentes aplicables.
El/la editor/a difundirá los textos con la licencia de reconocimiento de Creative Commons que permite compartir la obra con terceros, siempre que éstos reconozcan su autoría, su publicación inicial en esta revista y las condiciones de la licencia.