Social inequalities and long run regional economic growth in Spain
Keywords:
Inequality and Economic Growth, Regional Economics, Agrarian Reform, Human Capital
Abstract
This article aplies the most relevant conclusions of the international debate about the effects of social inequality on economic growth to the historical case of Spanish regions. In the first part, a survey of the influence of income, wealth and human capital inequalities on economic growth is placed. In the second part, the possible channels through which social inequalities conditioned long run growth of regional GDP per capita in Spain are explored. The essay concludes with some brief comments on future research lines.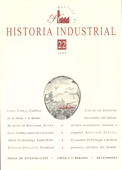 Downloads
License
El/la autor/a cede los derechos al/la editor/a. Creative Commons
El/la autor/a que publica en esta revista está de acuerdo con los términos siguientes:
El/la autor/a cede en exclusiva todos los derechos de propiedad intelectual al/la editor/a para todo el mundo y toda la duración de los derechos de propiedad intelectual vigentes aplicables.
El/la editor/a difundirá los textos con la licencia de reconocimiento de Creative Commons que permite compartir la obra con terceros, siempre que éstos reconozcan su autoría, su publicación inicial en esta revista y las condiciones de la licencia.