The Goytisolo. From landowers in Cienfuegos to real state owners in Barcelona
Keywords:
Cuba, Sugar, Capital Transfer, Catalonia
Abstract
This article is a case study analysis about the mechanisms and tools used to transfer capital from the Cuban economy to the Iberian Peninsula during the second half of the XIXth century, based on the study of different landowners whose wealth came from the central area of the island of Cuba –particularly Agustin Goytisolo. The aim is to contribute new elements in the current debate about the importance that Antille capitals might have had in nineteenth-century Catalan economy, as well as to indicate that either Catalonia or Spain were central spaces for the investment of the profits that the Cuban sugar economy produced –in contrast to dominant ideas about the direction of such investment.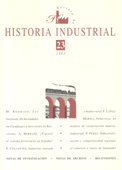 Downloads
License
El/la autor/a cede los derechos al/la editor/a. Creative Commons
El/la autor/a que publica en esta revista está de acuerdo con los términos siguientes:
El/la autor/a cede en exclusiva todos los derechos de propiedad intelectual al/la editor/a para todo el mundo y toda la duración de los derechos de propiedad intelectual vigentes aplicables.
El/la editor/a difundirá los textos con la licencia de reconocimiento de Creative Commons que permite compartir la obra con terceros, siempre que éstos reconozcan su autoría, su publicación inicial en esta revista y las condiciones de la licencia.