Energy, industry and rural areas: the case of Spanish mountain zones (1850-2000)
Keywords:
Rural Industry, Coal Mining, Electrical Sector, Depopulation, Mountain Economies
Abstract
The article deals with the connections between energetic resources, industrial activities and rural economies in the context of the development of contemporary Spain, taking as study-cases its 84 main mountainous counties. The article presents a reconstruction of statistical series about coal mining, electrical production and industrial intensity for mountain areas. The results show that, in the era of modern economic growth, mountain areas got specialized in the production of coal and electricity; their industrial poles were not so relevant, but neither were they negligible from a local viewpoint. Coal mining and most of the manufacturing activities contributed to postpone or soften the demographic decline of the corresponding mountain economies, but electrical specialization did not promote significative effects in this sense.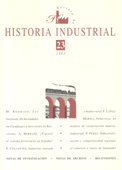 Downloads
License
El/la autor/a cede los derechos al/la editor/a. Creative Commons
El/la autor/a que publica en esta revista está de acuerdo con los términos siguientes:
El/la autor/a cede en exclusiva todos los derechos de propiedad intelectual al/la editor/a para todo el mundo y toda la duración de los derechos de propiedad intelectual vigentes aplicables.
El/la editor/a difundirá los textos con la licencia de reconocimiento de Creative Commons que permite compartir la obra con terceros, siempre que éstos reconozcan su autoría, su publicación inicial en esta revista y las condiciones de la licencia.