Industrialization and competitiveness: the Santander-based trade (1895-1930)
Keywords:
Industrialization, Trade, Competitiveness, Regional Analysis
Abstract
This paper presents an analysis of trade (home trade and foreign trade) through Santander along the period 1895-1930, and its relationship with the regional economy. We find shifts in the pattern of specialization, arising from labor unit costs and trading rules, those overall benefitting internal national goods. Furthermore, we provide some estimates of the factors determining the coasting-trade exports in a panel data analysis. The results of the estimation confirm the positive effect of traditional theory variables as external demand and relative price/cost; and moreover, the sensitivity to the import goods, as a proxy of externalities variables. Testing this hypothesis allows us to contribute with some new findings. Some improvements with respect former Spanish regional studies are the robustness of the long run relationships to the estimation methods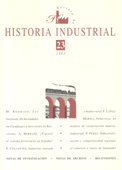 Downloads
License
El/la autor/a cede los derechos al/la editor/a. Creative Commons
El/la autor/a que publica en esta revista está de acuerdo con los términos siguientes:
El/la autor/a cede en exclusiva todos los derechos de propiedad intelectual al/la editor/a para todo el mundo y toda la duración de los derechos de propiedad intelectual vigentes aplicables.
El/la editor/a difundirá los textos con la licencia de reconocimiento de Creative Commons que permite compartir la obra con terceros, siempre que éstos reconozcan su autoría, su publicación inicial en esta revista y las condiciones de la licencia.