The history of a chimera. Cotton textile industry in Old Castile, 1846-1913
Keywords:
Cotton Textile Industry, Textile Markets, Old Castile, Business History
Abstract
In 1860 Valladolid was the main cotton textile district in central Spain. Four decades latter, all its factories had closed down. This papers analyses the reasons of this failure. Since Castillian products could no compete with Catalonian ones due to the cost of steam energy, Valladolid and Santander manufacturers had to shelter in the market of coarse textiles, whose size was smaller and decreasing. The cotton companies, formed by family firms wich had flour milling as their main business, Barcelona textile merchants and Santander shipowners, suffered from frequent divisions and disagreements which weaekened them in the face of of their rivals.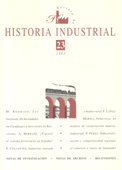 License
El/la autor/a cede los derechos al/la editor/a. Creative Commons
El/la autor/a que publica en esta revista está de acuerdo con los términos siguientes:
El/la autor/a cede en exclusiva todos los derechos de propiedad intelectual al/la editor/a para todo el mundo y toda la duración de los derechos de propiedad intelectual vigentes aplicables.
El/la editor/a difundirá los textos con la licencia de reconocimiento de Creative Commons que permite compartir la obra con terceros, siempre que éstos reconozcan su autoría, su publicación inicial en esta revista y las condiciones de la licencia.