Technological Transfer to the Catalan cotton industry: from calico-printing to the self-acting mule
Keywords:
Catalonia, Cotton Industry, Technological Transfer, Calico-Printing
Abstract
In this article the take up of key inventions in the Catalan cotton industry, from the introduction of calico-printing in the 1730s to that of the self-acting mule in the 1840s, is plotted and the technical performance revealed is related to that of other centres of the European industry. The intention is to contribute to the understanding of the process of technological diffusion in cotton during the early stages of industrialization and to throw light on any particularities of the Catalan experience of the industry.
Downloads
Download data is not yet available.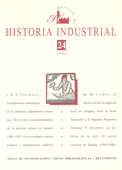 Downloads
License
El/la autor/a cede los derechos al/la editor/a. Creative Commons
El/la autor/a que publica en esta revista está de acuerdo con los términos siguientes:
El/la autor/a cede en exclusiva todos los derechos de propiedad intelectual al/la editor/a para todo el mundo y toda la duración de los derechos de propiedad intelectual vigentes aplicables.
El/la editor/a difundirá los textos con la licencia de reconocimiento de Creative Commons que permite compartir la obra con terceros, siempre que éstos reconozcan su autoría, su publicación inicial en esta revista y las condiciones de la licencia.