The development of the textile industry in Uruguay between the Great Depression and the 1950s: entrepreneurship and economic policies
Keywords:
Textile Entreprise, Uruguay, Import Substitution, Export
Abstract
The research takes place in the transition period between the exports led growth and industrialization by substitution of imports. In this process the State fulfills a strongly regulating role, through exchange and foreign trade control, and redistributive policies intended to strengthen the domestic market. In this frame, the textile industry is one of the sectors of greater growth. The objective of the article is to discuss the performance of the wool textile industry in two stages of its development: the substitution of imports and the export openness during II World War and the postwar period. The research is based on a case study of the most important Uruguayan textile firm of this period: Campomar & Soulas. The analysis of the enterprise strategies and the policies of the State contribute to evidence the limitations of the imports substitution process and the difficulties to consolidate an export oriented industry.
Downloads
Download data is not yet available.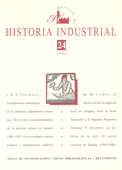 Downloads
License
El/la autor/a cede los derechos al/la editor/a. Creative Commons
El/la autor/a que publica en esta revista está de acuerdo con los términos siguientes:
El/la autor/a cede en exclusiva todos los derechos de propiedad intelectual al/la editor/a para todo el mundo y toda la duración de los derechos de propiedad intelectual vigentes aplicables.
El/la editor/a difundirá los textos con la licencia de reconocimiento de Creative Commons que permite compartir la obra con terceros, siempre que éstos reconozcan su autoría, su publicación inicial en esta revista y las condiciones de la licencia.