The politics of furs. The lather industry in Spain (1940-1980)
Keywords:
Industria de la Piel, España, Aranceles, Política económica
Abstract
This article is structured on two parts quite independent one to the other. The first one draws the big lines of the economic tanneries of this period of time: the participation on the post-war, the tension in the structure of the sector that brought out the raise of the fifties, the importance of the foreign sector to take off during the sixties and the crisis of the seventies as well. The second part tackles several conflicts raised around the commercial policy held at that time in the minor sector of the small furs: the fights for the sheep leather import, the discussions about the leather exports and the establishment of the wool leather tariff as well. Several social agents positions are analyzed (the Government, the Sheep Union, The National Union of the Leather and the tanned factories as well, describing the different interests and political pressures behind every discussion.
Downloads
Download data is not yet available.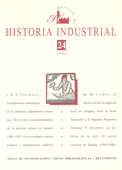 Downloads
License
El/la autor/a cede los derechos al/la editor/a. Creative Commons
El/la autor/a que publica en esta revista está de acuerdo con los términos siguientes:
El/la autor/a cede en exclusiva todos los derechos de propiedad intelectual al/la editor/a para todo el mundo y toda la duración de los derechos de propiedad intelectual vigentes aplicables.
El/la editor/a difundirá los textos con la licencia de reconocimiento de Creative Commons que permite compartir la obra con terceros, siempre que éstos reconozcan su autoría, su publicación inicial en esta revista y las condiciones de la licencia.