The commercialization of cork products at the beginning of the nineteenth century. The example of the firm Rafael Arxer, Son and Co.
Keywords:
Leather Industry, Spain, Tariffs, Economic Policy
Abstract
The Catalan industry of cork stoppers has been characterized by its emphasis on export since its inception in the eighteenth century. This paper analyzes the commercialization networks of cork stoppers and other cork products established by Catalan manufacturers at the beginning of nineteenth century, mainly through the commercial correspondence of the firm Rafael Arxer, Son and Co. In addition to describing the sales map of this company, emphasis is given to the symbiosis between the trade of stoppers and the rest of the foreign Catalan trade at the initial phases of the cork industry. Moreover, some of the challenges faced by exporters during that stage are illustrated, especially the problems related to the expansion of markets, the increase in the number of customers and the financing of trade on commission.
Downloads
Download data is not yet available.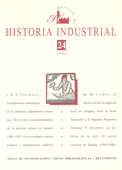 Downloads
License
El/la autor/a cede los derechos al/la editor/a. Creative Commons
El/la autor/a que publica en esta revista está de acuerdo con los términos siguientes:
El/la autor/a cede en exclusiva todos los derechos de propiedad intelectual al/la editor/a para todo el mundo y toda la duración de los derechos de propiedad intelectual vigentes aplicables.
El/la editor/a difundirá los textos con la licencia de reconocimiento de Creative Commons que permite compartir la obra con terceros, siempre que éstos reconozcan su autoría, su publicación inicial en esta revista y las condiciones de la licencia.