The international integration of the Spanish forestry sector, 1849-1935
Keywords:
Economía forestal, Historia forestal, Comercio exterior, Política comercial
Abstract
This work presents an initial analysis of the international forest trade markets from the middle of the 19th century to the 1930's, related to economic growth resulting from the first and second industrial revolution. In this context the paper explores Spanish forest imports and exports to explain their long-run evolution. The main conclusion is that Spain typifies an industrializing Mediterranean forest country, with a high competitiveness in exports of processed or semi-processed cork and rosin products, but with a significant dependence in imports of sawn timber. Trade policies in force during this period seem to be consistent with this view.
Downloads
Download data is not yet available.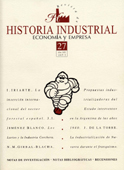 Downloads
License
El/la autor/a cede los derechos al/la editor/a. Creative Commons
El/la autor/a que publica en esta revista está de acuerdo con los términos siguientes:
El/la autor/a cede en exclusiva todos los derechos de propiedad intelectual al/la editor/a para todo el mundo y toda la duración de los derechos de propiedad intelectual vigentes aplicables.
El/la editor/a difundirá los textos con la licencia de reconocimiento de Creative Commons que permite compartir la obra con terceros, siempre que éstos reconozcan su autoría, su publicación inicial en esta revista y las condiciones de la licencia.