Cotton, textile packagin and home-weaving. Industrializing proposal of the interventionist state in Argentina during the 1940s
Keywords:
Argentina, Cotton, Interventionism, Weaving
Abstract
The aim of this paper is to analyze the characteristics of the industrialization project in Argentina in the years that preceded Peron´s regime. It intends to disclose its range, its aims and the results achieved by such projetc, as an expression of the relationship between the prevailing economy of the Pampas and the non-competitive agrarian production, specific of the marginal regions. In that direction, the home-weaving, in connection with the packaging for rural products becomes an interesting case study. The purpose is to advance in the characterization of the changes and continuities of the rural Argentina through the knowledge of the agrarian and agroindustrial policy implemented by the interventionist government during the 1930s and 1940s. Therefore, widen to the interpretations concerning the relationship between government and agro-industrial bourgeoisie.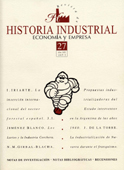 Downloads
License
El/la autor/a cede los derechos al/la editor/a. Creative Commons
El/la autor/a que publica en esta revista está de acuerdo con los términos siguientes:
El/la autor/a cede en exclusiva todos los derechos de propiedad intelectual al/la editor/a para todo el mundo y toda la duración de los derechos de propiedad intelectual vigentes aplicables.
El/la editor/a difundirá los textos con la licencia de reconocimiento de Creative Commons que permite compartir la obra con terceros, siempre que éstos reconozcan su autoría, su publicación inicial en esta revista y las condiciones de la licencia.