Threads of metal. The Iron and Steel Wire-Drawing Industry in Spain (1856-1935)
Keywords:
Metal Industries, Iron and Steel Wire-Drawing Industries, Entrepreneurial Networks, Spain
Abstract
Iron and steel wire manufactures provided a wide and heterogeneous range of products for agriculture, mining, and several industries (paper, flour products, mechanical constructions) during the process of Spanish industrialization. This article contains new data about the growth of this auxiliary sector for a chronological period of the metal industries for which historiography has provided very few published studies. Particularly outstanding are data about Spanish iron and steel wire manufacturing workshops and factories between 1856-1935, and about imports and exports in this period. Technological change, geographical location, entrepreneurial structure of the sector, collusive agreements and institutional environment are relevant aspects the analysis deals with.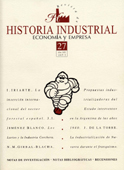 Downloads
License
El/la autor/a cede los derechos al/la editor/a. Creative Commons
El/la autor/a que publica en esta revista está de acuerdo con los términos siguientes:
El/la autor/a cede en exclusiva todos los derechos de propiedad intelectual al/la editor/a para todo el mundo y toda la duración de los derechos de propiedad intelectual vigentes aplicables.
El/la editor/a difundirá los textos con la licencia de reconocimiento de Creative Commons que permite compartir la obra con terceros, siempre que éstos reconozcan su autoría, su publicación inicial en esta revista y las condiciones de la licencia.