The hegemony of the steel industry of Vizcaya: a cost analysis (1890-1913)
Keywords:
Spanish Steel Industry. Steel Costs. Competitiveness
Abstract
The article offers unpublished documents on the costs of the Spanish steel industry factories from the Historical Archive of the Crédit Lyonnais of Paris. This documents allow: 1) to compare the costs of the pig iron, the steel and the half-finished and finished products of the factories in Vizcaya and Asturias; 2) to deepen the knowledge about the reasons of the hegemony of Vizcaya and 3) to question the model of Stefan Houpt according to whom Gijon and not Bilbao was the right location of the steel industry..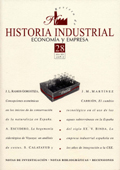 Downloads
License
El/la autor/a cede los derechos al/la editor/a. Creative Commons
El/la autor/a que publica en esta revista está de acuerdo con los términos siguientes:
El/la autor/a cede en exclusiva todos los derechos de propiedad intelectual al/la editor/a para todo el mundo y toda la duración de los derechos de propiedad intelectual vigentes aplicables.
El/la editor/a difundirá los textos con la licencia de reconocimiento de Creative Commons que permite compartir la obra con terceros, siempre que éstos reconozcan su autoría, su publicación inicial en esta revista y las condiciones de la licencia.