The cotton Manufacturers of Barcelona (1833-1844). Entrepreneurial strategies in the modernization of an industrial district
Keywords:
Cotton Industry, Catalonia, Entrepreneurial Strategies, Industrial District
Abstract
With the example of the cotton industrial district of Barcelona between 1833 and 1844, this article studies the strategies of a group of managers about the modernization of their activities. This case allows us to test several assumptions on the characteristics of productive systems regarding social consensus, entrepreneurial dynamics, industrial atmosphere favourable to technological innovations, co-operation between companies and between managers, the role of the State and institutions. The example of the industrial district of Barcelona shows that the success of the strategies to modernize a productive system depends on the capacity of the most dynamic fringe of the manufacturers to benefit from their territorial foothold and to transform the most various environments to their own advantage.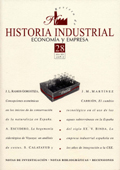 Downloads
License
El/la autor/a cede los derechos al/la editor/a. Creative Commons
El/la autor/a que publica en esta revista está de acuerdo con los términos siguientes:
El/la autor/a cede en exclusiva todos los derechos de propiedad intelectual al/la editor/a para todo el mundo y toda la duración de los derechos de propiedad intelectual vigentes aplicables.
El/la editor/a difundirá los textos con la licencia de reconocimiento de Creative Commons que permite compartir la obra con terceros, siempre que éstos reconozcan su autoría, su publicación inicial en esta revista y las condiciones de la licencia.