An impossible capitalism: firms, organizational traditions and institutional framework in the Spanish lead mining sector in the XIXth century
Keywords:
Mining Company, Small Mining, Mining Laws, Property Rights
Abstract
This article studies the framework of lead's mining companies during the mining boom in the 19th century. Until now, the important entry of foreign capital (from the law of mines of 1868) has caused that the attention of the scholarships is concentrated in this stage of Spanish mining history. Nevertheless, the Spanish mining expansion had its origin in the 1820's in the mining industry of the lead. This growth produced the birth of an extraordinary number of companies in the biggest associative mobilization registered in 19th century in Spain. The management that these companies did of their property rights, elevated transaction costs in the sector. Also the article argues that the institutional and legal framework had responsibilities in the weak development of a Spanish mining capitalism.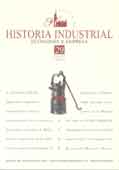 Downloads
License
El/la autor/a cede los derechos al/la editor/a. Creative Commons
El/la autor/a que publica en esta revista está de acuerdo con los términos siguientes:
El/la autor/a cede en exclusiva todos los derechos de propiedad intelectual al/la editor/a para todo el mundo y toda la duración de los derechos de propiedad intelectual vigentes aplicables.
El/la editor/a difundirá los textos con la licencia de reconocimiento de Creative Commons que permite compartir la obra con terceros, siempre que éstos reconozcan su autoría, su publicación inicial en esta revista y las condiciones de la licencia.