Tourism and Economy in Twentieh-century Málaga
Keywords:
Málaga, Tourism, XX Century, Spain
Abstract
The aim of this paper is to provide a better understanding of the historic evolution of tourism in Málaga in the XX century. We analyse the tourism demand as well as the thourism supply through their main indicators. We analyse the tourism that for the period 1950-1975 the growth rates of the tourist sector were astonishing. Also, in the last quarter of the XX century, except for some interruptions in the periods 1876-1980 and 1989-1993, the tourist sector in Málaga achieved high although moderate growth rates. Finally, we analyse the pressure of the tourism industry on (i) demography, in terms of demographic growth and its spatial distribution, and (ii) the productive structure in Málaga.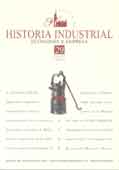 Downloads
License
El/la autor/a cede los derechos al/la editor/a. Creative Commons
El/la autor/a que publica en esta revista está de acuerdo con los términos siguientes:
El/la autor/a cede en exclusiva todos los derechos de propiedad intelectual al/la editor/a para todo el mundo y toda la duración de los derechos de propiedad intelectual vigentes aplicables.
El/la editor/a difundirá los textos con la licencia de reconocimiento de Creative Commons que permite compartir la obra con terceros, siempre que éstos reconozcan su autoría, su publicación inicial en esta revista y las condiciones de la licencia.