Rentist capitalism and entrepreneurial decadence: the disappearance of the Martínez Rivas firm (1913-1921)
Keywords:
Martínez Rivas, I World War, Family Firm, Entrepreneurial Decadence
Abstract
The focus of the article is to provide an explanation of the decadence and disappearance of Casa Martínez Rivas, which took place between 1913, year of the founder's decease, and 1921, when the Sociedad Española de Construcción Naval y Altos Hornos de Vizcaya bought the businesses of the firm. Based on archival sources, profits obtained during I World War and the dealings preparing the final sale are presented, stressing the role that the threat of foreign interest played. The article offers in the conclusions some ideas regarding the extraordinary profits obtained during the war, the problems presented by generational sucession in family firms, the true characterization of the Byscay oligarchy, and the persistence of capitalist interest beyond entrepreneurial spirit's decline.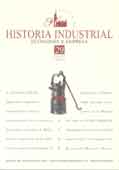 Downloads
License
El/la autor/a cede los derechos al/la editor/a. Creative Commons
El/la autor/a que publica en esta revista está de acuerdo con los términos siguientes:
El/la autor/a cede en exclusiva todos los derechos de propiedad intelectual al/la editor/a para todo el mundo y toda la duración de los derechos de propiedad intelectual vigentes aplicables.
El/la editor/a difundirá los textos con la licencia de reconocimiento de Creative Commons que permite compartir la obra con terceros, siempre que éstos reconozcan su autoría, su publicación inicial en esta revista y las condiciones de la licencia.