The impact of the First World War on the industrial sector of the Industry of La Coruña
Keywords:
First World War, Industrial History, Urban History, Economic Cycle
Abstract
This paper analyses the impact of the First World War on the industry of the town of La Coruña. The purpose is to frame this peripheral space within the more general Spanish economic behaviour during the war period. The conflict meant an extraordinary opportunity for the growth of several sectors and several areas within the country. We aim to demonstrate that La Coruña formed part of the set of cities and regions which were damaged by the struggle. As a consequence of its specialization in commercialization functions, at the beginning of the war the industry was insufficiently consolidated. This blocked the adaptation to the new conditions imposed by the European demand. And, on the other hand, the dependence on acquisitions of many inputs and consumer goods, imported through the port, was an obstacle for the normal development of the local industrial activity.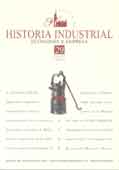 Downloads
License
El/la autor/a cede los derechos al/la editor/a. Creative Commons
El/la autor/a que publica en esta revista está de acuerdo con los términos siguientes:
El/la autor/a cede en exclusiva todos los derechos de propiedad intelectual al/la editor/a para todo el mundo y toda la duración de los derechos de propiedad intelectual vigentes aplicables.
El/la editor/a difundirá los textos con la licencia de reconocimiento de Creative Commons que permite compartir la obra con terceros, siempre que éstos reconozcan su autoría, su publicación inicial en esta revista y las condiciones de la licencia.