From regions to cities. Towards a new approach to Spanish contemporary industrial history
Keywords:
Spanish Industrialization, Industrial Cities, Industrial Location
Abstract
This paper proposes a new approach to the analysis of the Spanish industrialisation process during the XIXth and XXth centuries. As opposed to the standard approach developed in the last 20 years, whose unit of analysis is the region, we undertake a research program at the city level. In this paper, we offer a detailed list of 160 industrial cities and analyse their industrial evolution in the period 1787-1991. Some of the cities evolved to become strong industrial clusters (they were mainly located in the North and East of Spain); however some others, suffered a severe industrial decline, ending up by moving to a different growth engine.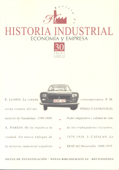 License
El/la autor/a cede los derechos al/la editor/a. Creative Commons
El/la autor/a que publica en esta revista está de acuerdo con los términos siguientes:
El/la autor/a cede en exclusiva todos los derechos de propiedad intelectual al/la editor/a para todo el mundo y toda la duración de los derechos de propiedad intelectual vigentes aplicables.
El/la editor/a difundirá los textos con la licencia de reconocimiento de Creative Commons que permite compartir la obra con terceros, siempre que éstos reconozcan su autoría, su publicación inicial en esta revista y las condiciones de la licencia.