Place of residence and consumption patterns. The Penedès and Barcelona, 1770-1790
Keywords:
Pautas de consumo, Moda, Lujo, Lugar de Residencia
Abstract
Research on the transformation of consumption patterns in pre-industrial Europe –which was sometimes qualified as «revolutionary»– reveal a substantial impact of the expansion of consuming luxury goods and fashion on the habits of the urban population starting with the 18th Century. Yet, what happened in the rural areas while luxury and fashion consumption spread like plague over the large cities? The purpose of this article is to compare, based on the analysis of post-mortem inventories, the impact of this phenomenon on rural and urban areas, and to determine the relationship between the residence variable and consumption. The analysis takes into account three spatial environments: the countryside (small villages, hamlets and isolated houses in the current area of Alt Penedés), the town (Vilafranca del Penedés, capital of the area) and the city (Barcelona).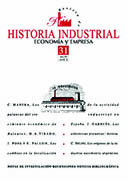 Downloads
License
El/la autor/a cede los derechos al/la editor/a. Creative Commons
El/la autor/a que publica en esta revista está de acuerdo con los términos siguientes:
El/la autor/a cede en exclusiva todos los derechos de propiedad intelectual al/la editor/a para todo el mundo y toda la duración de los derechos de propiedad intelectual vigentes aplicables.
El/la editor/a difundirá los textos con la licencia de reconocimiento de Creative Commons que permite compartir la obra con terceros, siempre que éstos reconozcan su autoría, su publicación inicial en esta revista y las condiciones de la licencia.