The Forgotten Discontinuity: Labor Input. Technological Change and New Goods during the Industrial Revolution
Keywords:
Industrial Revolution, Growth, Hedonics, Value of Variety
Abstract
How revolutionary was the Industrial Revolution? One generation of scholars has argued -not very. This article takes issue with that conclusion. It examines three aspects that fundamentally recast our evaluation of the economic transformation that began in Britain in the 1750s. First, more flexible approaches to TFP accounting break down the simple distinction between capital accumulation and technological change. Second, hedonic measures of output regularly produce much higher numbers for output growth - much of the downward revisionism is a reflection of measurement that is too narrow to capture of technological change. Third, the value of variety must have been very large. Model calculations for the impact of these corrections are performed and discussed. The article concludes with an agenda for future research.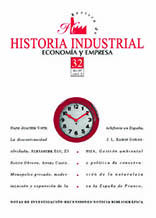 Downloads
License
El/la autor/a cede los derechos al/la editor/a. Creative Commons
El/la autor/a que publica en esta revista está de acuerdo con los términos siguientes:
El/la autor/a cede en exclusiva todos los derechos de propiedad intelectual al/la editor/a para todo el mundo y toda la duración de los derechos de propiedad intelectual vigentes aplicables.
El/la editor/a difundirá los textos con la licencia de reconocimiento de Creative Commons que permite compartir la obra con terceros, siempre que éstos reconozcan su autoría, su publicación inicial en esta revista y las condiciones de la licencia.