Spain's first public old age pensions. A study of Retiro Obrero, 1909-1936
Keywords:
Pensions, Economic Intervention, Social Insurance, Labour
Abstract
The following article aims at examining the first steps of public protection of old age people in Spain. Despite its poor economic record, Spain managed to appear on the first wave of public old age protection that took place at the turn of the twentieth century. The gap between Spanish economic evolution and this 'pioneering' position poses some a priori scepticism on the economic soundness of a system developed initially on a voluntary basis and, after World War I, on a compulsory one. After an examination of the insurance system through its different phases, it will be shown how this experience failed to a considerable extent to be both an efficient and effective mean of protection, unable as it was to meet long-term sustainability requirements and short-term immediate demands. However, the system stands as an ambitious piece of state intervention in the hostile context of that time.
Downloads
Download data is not yet available.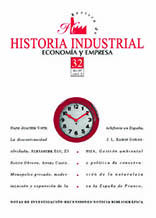 Downloads
License
El/la autor/a cede los derechos al/la editor/a. Creative Commons
El/la autor/a que publica en esta revista está de acuerdo con los términos siguientes:
El/la autor/a cede en exclusiva todos los derechos de propiedad intelectual al/la editor/a para todo el mundo y toda la duración de los derechos de propiedad intelectual vigentes aplicables.
El/la editor/a difundirá los textos con la licencia de reconocimiento de Creative Commons que permite compartir la obra con terceros, siempre que éstos reconozcan su autoría, su publicación inicial en esta revista y las condiciones de la licencia.