Environmental management and nature conservation policy in Franco's Spain
Keywords:
Spain, Franco, Natura Conservation, Environmental History
Abstract
In principle, it might be thought that nature conservation was an important concern in the early Francoist period, due to the owing to its sympathies towards agrarian ruralism and the green streak in other European fascist movements, like the German national socialism. However, the conservation policy, which had been developed in Spain during the first third of the twentieth century as a part of the general modernization process of the country, was dismantled under Franco. Later on, after a long break of thirty years, and in the context of the intense industrialization period of the "desarrollismo", a peculiar incipient ecologist movement –without links with the early Spanish conservationist tradition of the beginning of the twentieth century– arose. At the same time, a public policy of nature conservation was implemented which was apparently ambitious, although in practice it had not moved away from the productivist and utilitarian vision of nature at the service of economic growth which had been dominant throughout Francoist period.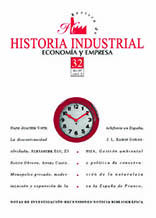 Downloads
License
El/la autor/a cede los derechos al/la editor/a. Creative Commons
El/la autor/a que publica en esta revista está de acuerdo con los términos siguientes:
El/la autor/a cede en exclusiva todos los derechos de propiedad intelectual al/la editor/a para todo el mundo y toda la duración de los derechos de propiedad intelectual vigentes aplicables.
El/la editor/a difundirá los textos con la licencia de reconocimiento de Creative Commons que permite compartir la obra con terceros, siempre que éstos reconozcan su autoría, su publicación inicial en esta revista y las condiciones de la licencia.