Breaking off, adaptation and "routines" in the Murcia firms in the period of capitalism consolidation. 1780-1880/90
Keywords:
Empresas, Murcia, Mercado Capitalista, Siglo XIX
Abstract
The paper offers a case study. It analyzes a quantitatively important entrepreneurial group, working in Murcia in the XIXth century, and of the firms their members constituted. Entrepreneurs and firms are the focus of this work, which includes an introduction to present the main aspects of the regional economy affecting their strategies. The core of this analysis consist on the contribution of the mentioned economic agents, to the process of formation of a capitalist market. The influence of the regional background and social conditions has been stressed as, a more important explicative capacity than the "business spirit" stereotype.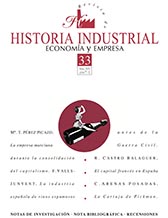 Downloads
License
El/la autor/a cede los derechos al/la editor/a. Creative Commons
El/la autor/a que publica en esta revista está de acuerdo con los términos siguientes:
El/la autor/a cede en exclusiva todos los derechos de propiedad intelectual al/la editor/a para todo el mundo y toda la duración de los derechos de propiedad intelectual vigentes aplicables.
El/la editor/a difundirá los textos con la licencia de reconocimiento de Creative Commons que permite compartir la obra con terceros, siempre que éstos reconozcan su autoría, su publicación inicial en esta revista y las condiciones de la licencia.