The failure of a business. The railway from Barcelona to Saragossa
Keywords:
Railway, Wheelwright, Transport, Wheat
Abstract
The paper is based on four main documentary sources. Firstyly, a 1857 Barcelona-Saragossa Railway Company report on the business expectations, before the line was constructed. Secondly, the Annual Accounts of 1864 and other statistics reported by the company's Board of Directors. Thirdly, the 1857 and 1858 Statistics of Road Transport filled in by several councils of the province of Saragossa. Finally, the prices of Aragonese wheat sold in Barcelona and others cities. From the study of these sources we conclude that one of the main problems of the Barcelona to Saragossa railway company (and, perhaps, of other Spanish ones) was the competition of traditional systems of transport; mainly the wheelwright.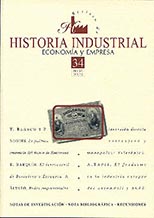 Downloads
License
El/la autor/a cede los derechos al/la editor/a. Creative Commons
El/la autor/a que publica en esta revista está de acuerdo con los términos siguientes:
El/la autor/a cede en exclusiva todos los derechos de propiedad intelectual al/la editor/a para todo el mundo y toda la duración de los derechos de propiedad intelectual vigentes aplicables.
El/la editor/a difundirá los textos con la licencia de reconocimiento de Creative Commons que permite compartir la obra con terceros, siempre que éstos reconozcan su autoría, su publicación inicial en esta revista y las condiciones de la licencia.