Nuclear power and learning processes: the role of Westinghouse and General Electric in the Spanish experience (c. 1955-1973)
Keywords:
nuclear energy, know-how, technology transfer, learning process
Abstract
This article explores the learning and technology transfer processes that placed Spain among the firstcomers of nuclear energy in the late 1960s. It is an example of a infantindustry that, under the protection of the State and the action of the business consortiums and of the North American multinationals, was able to replicate a complex technological challenge. We analyzed how an entrepreneurial ecosystem was created in which the leadership of some engineers and the cooperation and competition between industries, engineering and consultants were key. The business history of the Zorita and Garoña nuclear power plants exemplifies a model of learning by doing that, through turnkey contracts, allowed a rapid growth of the sector, convincing the dictatorship government and the electric promoters that it was possible to carry out one of the most ambitious nuclear programs in Western Europe.
Downloads
Download data is not yet available.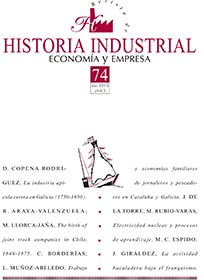 Downloads
License
El/la autor/a cede los derechos al/la editor/a. Creative Commons
El/la autor/a que publica en esta revista está de acuerdo con los términos siguientes:
El/la autor/a cede en exclusiva todos los derechos de propiedad intelectual al/la editor/a para todo el mundo y toda la duración de los derechos de propiedad intelectual vigentes aplicables.
El/la editor/a difundirá los textos con la licencia de reconocimiento de Creative Commons que permite compartir la obra con terceros, siempre que éstos reconozcan su autoría, su publicación inicial en esta revista y las condiciones de la licencia.