The Politics of Cotton in Eighteenth Century Spain
Keywords:
Algodón, Política económica, España, Siglo XVIII
Abstract
As elsewhere in Europe Spain, confronted by an influx of oriental cotton imports, which originated in the sixteenth century and became significant from the second half of the seventeenth, ended by introducing a range of import restrictions on products containing the fibre. Prior to Charles II's death these were piecemeal, discontinuous, varied from region to region and were generally ineffective but, following the confirmation of Philip V's accession by the treaty of Utrecht, they were continuous and increasingly concerted for Spain's extensive, global territories. The resulting legislation provided the parameters within which Spain's cotton industry progressed during the 18th century. This article describes the legislative process itself, its intention being to identify the main determinants of legislation and thereby provide insights into the manner in which commercial and industrial policy was elaborated during the last years of the Old Regime
Downloads
Download data is not yet available.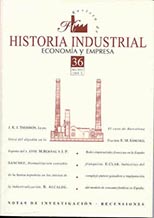 Downloads
License
El/la autor/a cede los derechos al/la editor/a. Creative Commons
El/la autor/a que publica en esta revista está de acuerdo con los términos siguientes:
El/la autor/a cede en exclusiva todos los derechos de propiedad intelectual al/la editor/a para todo el mundo y toda la duración de los derechos de propiedad intelectual vigentes aplicables.
El/la editor/a difundirá los textos con la licencia de reconocimiento de Creative Commons que permite compartir la obra con terceros, siempre que éstos reconozcan su autoría, su publicación inicial en esta revista y las condiciones de la licencia.