Standardization of bank financial statements in the early stages of Spanish industrialization
Keywords:
Historia bancaria, Normalización de estados contables, Bancos de Emisión
Abstract
The aim of this paper is twofold: first, we propose a methodology to harmonize all the balance sheets published in the Madrid Gazette by the banks of issue during the first stages of the development of the Spanish financial system; and second, based on this methodology we analyse the composition and evolution of these balance sheets in the period 1848-1868 in order to assess the degree of development of asset and liability structures, and the effect of the crisis of 1866. The analysis of the balance sheets shows that asset structure became less liquid over time due to the allocation of spare resources to more profitable investments. As regards the composition of liabilities, there was an increase of equity, and a decrease of current accounts and notes in circulation along the period.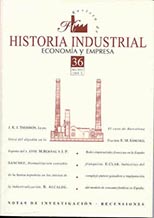 Downloads
License
El/la autor/a cede los derechos al/la editor/a. Creative Commons
El/la autor/a que publica en esta revista está de acuerdo con los términos siguientes:
El/la autor/a cede en exclusiva todos los derechos de propiedad intelectual al/la editor/a para todo el mundo y toda la duración de los derechos de propiedad intelectual vigentes aplicables.
El/la editor/a difundirá los textos con la licencia de reconocimiento de Creative Commons que permite compartir la obra con terceros, siempre que éstos reconozcan su autoría, su publicación inicial en esta revista y las condiciones de la licencia.