The case of Barcelona Traction. A revision
Keywords:
Barcelona Traction, CHADE, Juan March, SOFINA
Abstract
This paper seeks to contribute answers to diverse queries that have maintained the case of the Spanish control of Barcelona Traction unconcluded in spite of the years and its importance. The answers are useful to discover the relationships among the main sides of the topic, some of them only suspected and other simply unknown ones. The rejection to the 1945 plan, the origins of the 1951 Statement, the irregularities of the BT group and of the March group, the Canadian abandonment in its diplomatic task, the British support to March, the series of frustrated negotiations..., all of them are useful to know who the winner of the BT case was and what behaviors were decisive for that outcome.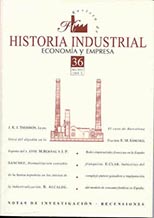 Downloads
License
El/la autor/a cede los derechos al/la editor/a. Creative Commons
El/la autor/a que publica en esta revista está de acuerdo con los términos siguientes:
El/la autor/a cede en exclusiva todos los derechos de propiedad intelectual al/la editor/a para todo el mundo y toda la duración de los derechos de propiedad intelectual vigentes aplicables.
El/la editor/a difundirá los textos con la licencia de reconocimiento de Creative Commons que permite compartir la obra con terceros, siempre que éstos reconozcan su autoría, su publicación inicial en esta revista y las condiciones de la licencia.