Who put bread on the table in the Spain of 1924? Work and family economics of day labourers and fishermen in Catalonia and Galicia
Keywords:
women's activity, wages, gender gap, household budgets
Abstract
Data on wages and living standards in Spain suggest that at least until the 1920s male wages were insufficient to cover the economic needs of families. We also know that female labour participation rates were very high. The question, still unresolved, is whether these were due to employment opportunities or the inadequacy of male wages. The scarcity of data is one of the reasons for the persistence of this debate: wages series are not disaggregated by gender in the long term, there are discontinuities in wages data, and there are few family budgets available. Based on an analysis of the Municipal Population Census of 1924, this article provides new evidence related to female activity rates, the contribution of all household members to family income, and the expenses of working families in two regions with very different models of economic development: Catalonia and Galicia.
Downloads
Download data is not yet available.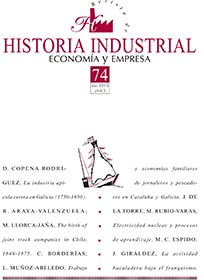 Downloads
License
El/la autor/a cede los derechos al/la editor/a. Creative Commons
El/la autor/a que publica en esta revista está de acuerdo con los términos siguientes:
El/la autor/a cede en exclusiva todos los derechos de propiedad intelectual al/la editor/a para todo el mundo y toda la duración de los derechos de propiedad intelectual vigentes aplicables.
El/la editor/a difundirá los textos con la licencia de reconocimiento de Creative Commons que permite compartir la obra con terceros, siempre que éstos reconozcan su autoría, su publicación inicial en esta revista y las condiciones de la licencia.