Provincial wholesale distributors in the commercialization of Catalan textiles (1850-1930)
Keywords:
Wholesale Distributors, Commercialisation, Cotton Textiles, Catalonia
Abstract
This paper analyses the important role provincial wholesalers played in the marketing of Catalan textile goods. Manufacturers improved their own commercial network in the Spanish market during the last third of the XIXth century through travellers and fixed agents. This enabled them to reach directly more cities and clients. However, big commission houses in Barcelona and provincial wholesalers in the main Spanish cities continued to be important. Analysing a commercial firm from Zaragoza, "Casa Fortea", we realise that these wholesalers reached those towns and clients too small to have a direct link with cotton firms.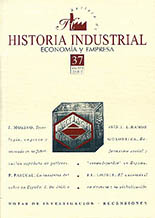 License
El/la autor/a cede los derechos al/la editor/a. Creative Commons
El/la autor/a que publica en esta revista está de acuerdo con los términos siguientes:
El/la autor/a cede en exclusiva todos los derechos de propiedad intelectual al/la editor/a para todo el mundo y toda la duración de los derechos de propiedad intelectual vigentes aplicables.
El/la editor/a difundirá los textos con la licencia de reconocimiento de Creative Commons que permite compartir la obra con terceros, siempre que éstos reconozcan su autoría, su publicación inicial en esta revista y las condiciones de la licencia.