Textile machinery in Catalonia: from foreign dependence to imports substitution, 1870-1959
Keywords:
Maquinaria textil, Historia de la tecnología, Historia empresarial, Cataluña
Abstract
This article analyzes the dynamics of the process of imports substitution of textile machinery in Catalonia during the Second Industrial Revolution and explains the reasons behind such a process. The research is sustained in a solid documental basis from a representative sample of Catalan textile companies. From 1870 until 1959, three phases are set up in the emergency of the Catalan textile metallurgy which are limited by the First World War and the Spanish Civil War. Following the absolute dependence from the foreign textile machinery, since the twenties significant advances were introduced in the Catalan textile metallurgy, in a climate of invention and innovation of the sector. From 1939 to 1959, the consolidation of the autochthonous industry of mechanical constructions, forced by a context of outer isolation, coincided with the erosion of the technological competitiveness of the textile industry.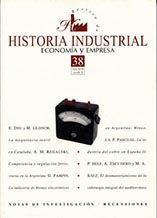 Downloads
License
El/la autor/a cede los derechos al/la editor/a. Creative Commons
El/la autor/a que publica en esta revista está de acuerdo con los términos siguientes:
El/la autor/a cede en exclusiva todos los derechos de propiedad intelectual al/la editor/a para todo el mundo y toda la duración de los derechos de propiedad intelectual vigentes aplicables.
El/la editor/a difundirá los textos con la licencia de reconocimiento de Creative Commons que permite compartir la obra con terceros, siempre que éstos reconozcan su autoría, su publicación inicial en esta revista y las condiciones de la licencia.