The dismantling of the steel industry of the Spanish Mediterranean area (1977-1984)
Keywords:
Reconversión industrial, Siderurgia, Política industrial, Empresa pública
Abstract
The article analyses the steel restructuring policiees in Spain in the period 1977-1984, focusing on their consequences on Altos Hornos del Mediterráneo. The authors defend that, from an economic and industrial point of view, the steel restructuring carried out in 1984 was a failure because it supposed that the project to build a integrated steel plant in the Spanish Mediterranean coast, which was the only possibility of giving Spain a real competitive steel industry able to meet domestic demand, was definitely abandoned.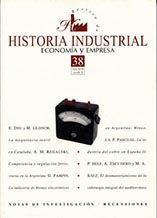 Downloads
License
El/la autor/a cede los derechos al/la editor/a. Creative Commons
El/la autor/a que publica en esta revista está de acuerdo con los términos siguientes:
El/la autor/a cede en exclusiva todos los derechos de propiedad intelectual al/la editor/a para todo el mundo y toda la duración de los derechos de propiedad intelectual vigentes aplicables.
El/la editor/a difundirá los textos con la licencia de reconocimiento de Creative Commons que permite compartir la obra con terceros, siempre que éstos reconozcan su autoría, su publicación inicial en esta revista y las condiciones de la licencia.