Majorica's case, an artificial pearls industry (1902-2005)
Keywords:
Artificial Pearls, Balearic Islands, Majorica, Sumptuary Industry.
Abstract
Necklaces and valuable articles of imitation jewellery, international influence, exportation progress, brand image, traditional female work, own technology. All this is Majorica. To mention it means to evoke an outstanding company with and added value: imitation pearls. The island of Majorca, place of production, gives the name to the firm. Its quality is well known on the international markets: from the European to the North American and the Asiatic ones, throughout all continents. In local terms, Majorica is Manacor: the company is and has always been based in this town, which is located at the East of the island. Majorica's activity has conditioned the social and economic life of the place for more than a century. In this paper, readers will find details about the economic history of the company, based on its files and records (including letter copiers, book-keepers, and various quantitative and qualitative materials), and even on graphics and audiovisuals recordings that had been thought lost forever.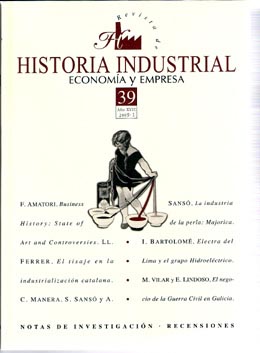 Downloads
License
El/la autor/a cede los derechos al/la editor/a. Creative Commons
El/la autor/a que publica en esta revista está de acuerdo con los términos siguientes:
El/la autor/a cede en exclusiva todos los derechos de propiedad intelectual al/la editor/a para todo el mundo y toda la duración de los derechos de propiedad intelectual vigentes aplicables.
El/la editor/a difundirá los textos con la licencia de reconocimiento de Creative Commons que permite compartir la obra con terceros, siempre que éstos reconozcan su autoría, su publicación inicial en esta revista y las condiciones de la licencia.