Civil War business in Galicia, 1936-1939
Keywords:
Twentieth Century, Civil War, Business History, Galiza (Spain)
Abstract
The aim of this work is to analyse the strategic role played by Galicia during the Spanish Civil War. The new empirical evidence allows concluding that the rebel government used the Galician economy rearguard position to cover all its most urgent needs in terms of supplies, men and capitals. The business opportunities arising in the heat of the war resulted in big profits for some productive sectors, but there were also important material damages in the factories put under military discipline. Galician entrepreneurs were aware of the temporary character of the conjuncture. As a consequence, they tried to cover the increasing demand with extra working hours instead of investment or the establishment of new enterprises.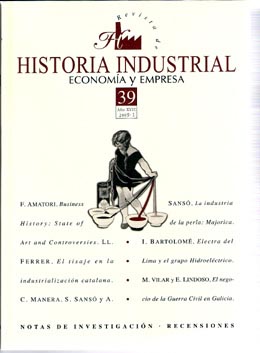 License
El/la autor/a cede los derechos al/la editor/a. Creative Commons
El/la autor/a que publica en esta revista está de acuerdo con los términos siguientes:
El/la autor/a cede en exclusiva todos los derechos de propiedad intelectual al/la editor/a para todo el mundo y toda la duración de los derechos de propiedad intelectual vigentes aplicables.
El/la editor/a difundirá los textos con la licencia de reconocimiento de Creative Commons que permite compartir la obra con terceros, siempre que éstos reconozcan su autoría, su publicación inicial en esta revista y las condiciones de la licencia.