"Forest transition" and economic change. The case of Spanish forests in the long run (1860-2000)
Keywords:
forest transition, forestry, land use changes, environmental history
Abstract
The concept of forest transition analyzes the process of change in forest cover in several countries throughout the world, which have reverted historical processes of deforestation to achieve net gains in forest surface area. The concept was coined in the 1990s and since then has generated a huge amount of social sciences literature, but never has been used to analyze the case of Spanish forests. To fill this gap, this paper presents a critical review of the literature on the concept. Then, using available data, it describes the evolution of forest cover in Spain in the long run and analyzes this in light of forest transition theory. This first approach reveals some gaps in the theory with respect to explaining the Spanish case, and suggests some hypotheses for further research.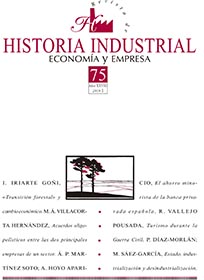 Downloads
License
El/la autor/a cede los derechos al/la editor/a. Creative Commons
El/la autor/a que publica en esta revista está de acuerdo con los términos siguientes:
El/la autor/a cede en exclusiva todos los derechos de propiedad intelectual al/la editor/a para todo el mundo y toda la duración de los derechos de propiedad intelectual vigentes aplicables.
El/la editor/a difundirá los textos con la licencia de reconocimiento de Creative Commons que permite compartir la obra con terceros, siempre que éstos reconozcan su autoría, su publicación inicial en esta revista y las condiciones de la licencia.