The Internationalization of Cespa in Monopoly Spain
Keywords:
Cepsa, Internationalization, Oil Industry, Canary Islands
Abstract
The aim of this article is to analyze the international strategy of Cespa –Compañía Española de Petróleos. Founded in 1929, this privately-owned Spanish company was characterized by its rapid incorporation into international markets. Cespa soon invested in foreign oil assets but its internatio¬nal projection remained defined by the construction of its first oil refinery in the Canary Islands. This area offered a free port zone with a strategic location with globally relevant oil transit. The storage of fuel, exportation, international contracts, and the opening of affiliate companies abroad were the means of forming Cespa as an international company. We will show how the existence of a global technological market within the petroleum sector provided for international competitiveness, but also that, at a later stage, the company's international experience gave it a competitive advantatge in terms commercial, technological, and management capital.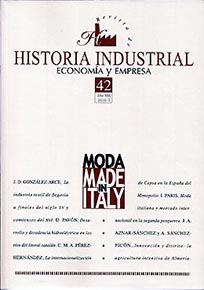 Downloads
License
El/la autor/a cede los derechos al/la editor/a. Creative Commons
El/la autor/a que publica en esta revista está de acuerdo con los términos siguientes:
El/la autor/a cede en exclusiva todos los derechos de propiedad intelectual al/la editor/a para todo el mundo y toda la duración de los derechos de propiedad intelectual vigentes aplicables.
El/la editor/a difundirá los textos con la licencia de reconocimiento de Creative Commons que permite compartir la obra con terceros, siempre que éstos reconozcan su autoría, su publicación inicial en esta revista y las condiciones de la licencia.